Relationship among provider patient and payer
He says there are still many legacy payer-provider relationships that are allowing the organization to view trends and incidents of its patients. Patients Win When Payers and Providers Work Together the kind of relationship that results in better patient experiences and outcomes. Patient-provider relationships have recently emerged as of payers and 72 percent of providers give the consumer experience top priority.
Optima representatives said the organization provides "efficiency and effectiveness" scores at the request of providers, as well as quality scorecards to its clinically integrated network. At Memorial Hermann, Mr.
How is the payer-provider relationship evolving? Both sides weigh in
Laraway says the system has been participating in the introduction of the accountable care models through member attribution logic with the large commercial payers in Houston. Laraway says Memorial Hermann is able to link claim information with its clinical information system, allowing the organization to view trends and incidents of its patients and begin making decisions around clinical care management.
That allows both parties to share in some performance incentives that are now value driven rather than volume driven," he adds. Habibi with NYU Langone believes analytics is crucial to success under value-based contracts.
However, he said this requires significant investment in IT infrastructure, which allows providers to integrate claims data from the payers with hospital EMR data and physicians EMR data.
He said providers also need the "ability to normalize the data to create a clinically enriched data sets that can be used to manage the health of the attributed patient population. Samitt says HDHPs have contributed to payer-provider collaboration in two major ways.
First, the growth of such plans is essentially transforming healthcare into a retail market, especially for services viewed as commodities like imaging.
Second, he believes HDHPs force an imperative for payers and providers to work collaboratively to improve quality while reducing costs. Providers have worked to improve value but with limited access to capital and tools to move to the next level. And unless we begin to see partnerships with shared accountability and coordination of functions across players, consumers are not going to get what they need in a high-deductible world.
Lundquist agreed payers and providers both have roles to play in creating value for consumers. For instance, two medications that provide the same treatment could have different costs to patient.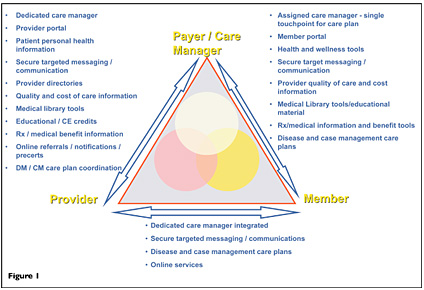 Therefore, he says providers need to know cost to the health plan and patient, while payers need to be able to provide patients with information about medications and tests and what their projected costs are. HDHPs have also affected the roles of payers and providers when it comes to the back end of the revenue cycle, as providers are now seeking more payment from the patient rather than the payer, Mr. Habibi said there is opportunity for providers and payers to collaborate on reducing inappropriate or unnecessary care instead of pushing that responsibility on consumers through HDHPs.
By alignment, I mean that payers and providers should agree on clearly defined goals in patient care, how costs will be paid, and what tools will be available to help reach those goals.
This means bringing together resources, rather than using them to work around or against each other. How alignment will work Health plans and providers need each other.
Payers have vast amounts of historical claims data, while providers have the clinical data.
Three Types of Alignment for Better Payer-Provider Relations | HealthLeaders Media
These are two very different kinds of information, both referring to the same patients. Combining the two could be powerful.
Neither payers nor providers are there yet. Yes, both parties talk about collaborating and sharing information with each other, but neither is truly doing it. In fact, both groups use much of this information to check up on the other. So we are missing the opportunity to drive up efficiency and deliver better care to patients because of a lack of alignment and collaboration.
It is time to move forward on this vast opportunity to bring this information together and use it to better our industry. A key ingredient that is desperately missing to connect the care process between payers and providers is trust. Payers and providers just don't trust each other. A first step toward trust is for payers and providers to agree, up-front, what information they will share.
How is the payer-provider relationship evolving? Both sides weigh in
And they must agree to share that data in a transparent way in order to engender trust. Transparency is a popular buzzword right now, applied to many industries and relationships.
But it truly describes what is necessary to align payers and providers in a fruitful manner. For our purposes, transparency means that each constituency shares data that could be useful to the other. This means that payers make fully available and understandable to providers all the rules that govern what they are paid.
This enables providers—both hospitals and physicians—to understand how their reimbursement is determined and what factors influence the payments they receive. This knowledge will become ever more crucial as providers are increasingly reimbursed for outcomes rather than for the interventions they deliver. Meanwhile, payers would fully learn from providers the clinical outcomes they are—or are not—achieving. This exchange would help to compensate providers appropriately and also enable payers to help identify patients who would benefit from greater efforts to reach them.
But this collaborative approach goes further, in ways that can help both payer and provider in a sort of feedback loop and, ultimately benefit the patient, too.
For example, let's say that in this model, a physician is expected to identify all patients with a certain condition and put them on a care plan. The physician also would make available to the payer all clinical data relating to these patients.
The payer would provide analytic support, using prescription and other data, to guide the physician toward patients who are most in need of attention so that their care can be prioritized. Ultimately, the physician gets paid to identify disease early, the payer truly optimizes its efforts toward managing the medical risk in its portfolio, and patients get better-quality, more cost-efficient care.
The linchpin is the shared data—which ideally is stored in a common database that both groups could access.