The employee organization relationship where do we go from here
The employee-organization relationship: where do we go from here? - LSE Research Online
Employees' contribution to organizational operations, profits and revenue is of extreme The employee–organization relationship: Where do we go from here?. The employee-organization relationship: where do we go from here? This site is part of RePEc and all the data displayed here is part of the RePEc data set. The implications of research and theory are discussed and future "The employee–organization relationship: Where do we go from here?.
There is no way to become the deeply diverse organizations we need to become if we do not. The notion of reciprocity is paramount here. Once a candidate is selected, the reciprocity frame on human capital is tailored to the unique individual who is joining forces with the organization.
We shift from a hypothetical relationship to a very specific contracting process. Who is this person? What is she already in the midst of learning? What relationships and networks does she bring with her?
Developing Human Capital: Moving from Extraction to Reciprocity in Our Organizational Relationships
What communities and cultural competencies can she introduce the organization to or deepen its understanding of? This frame challenges the uniform, job-description-driven onboarding processes that human resource functions have traditionally employed.
This can be done at the individual, team, and organizational levels. But again, we should move past the overly employer-centric frame to a reciprocal one here. Team meetings can alternate between an execution orientation and a learning orientation, to accommodate and prioritize group learning. At the organizational level, we can apply network and network leadership theory to nonfinancial capital development. This approach to an employee and an organization codeveloping social, intellectual, and cultural capital does not only pertain to senior positions, nor only to programmatic ones.
Younger staff bring these forms of capital, too. Consider their participation in community organizations and recent graduate work, for instance, or their access to or participation as younger activists trained in emergent forms of protest, or their deep comfort with using social media, just to name three examples.
Lastly, this reciprocal form of employee—organization human capital development makes an organization eminently more succession-ready at all key positions, including executive director. When these forms of capital are explicitly and democratically developed across staff and board, the risks associated with executive transition are greatly reduced.
To be clear, this is not about facilitating board-member involvement in any and all organizational projects and relationships.
The employee-organization relationship: where do we go from here?
The way forward has to be discussed openly and strategically with each board member. During recruitment conversations, we can use a line of inquiry like: If you were to join the board, are there people or networks or forms of knowledge you could introduce us to as we pursue these questions? And to whom and what might we introduce you? This bodes terribly for the strategic relevance and impact of these boards as well as the organizations they govern.
Thus, as with recruiting staff of color, organizations have to engage new board candidates openly and with humility about where the organization is in its work on racial equity, and be prepared to spend meaningful time in the boardroom engaging in honest conversation and group learning. What if, instead, we were explicit about the anticipated social, intellectual, and cultural capital requirements of each strategy?
Briefly, what do we mean by current, relevant, and available? We are being careful to consider who and what knowledge and networks are currently available rather than relying on historical assumptions.
We are being careful to consider the real capacity of the people in and around the organization.
Very often, the most leading edge of our staff, board, and collaborators are in high demand and are overdeployed. This may be especially true for people of color in high demand in historically white-dominated organizations and networks. The Neighborhood Performing Arts Group will strengthen our surrounding community by engaging low-income and often marginalized local residents in art making. Our senior staff have strong networks in the performing arts.
EconPapers: The employee-organization relationship: where do we go from here?
They will build new relationships with their counterparts at human service organizations in our community who already have strong relationships with local residents. Our executive will join the neighborhood coalition addressing housing and gentrification issues in the neighborhood.
All program staff will receive training in working with all types of artists in community settings.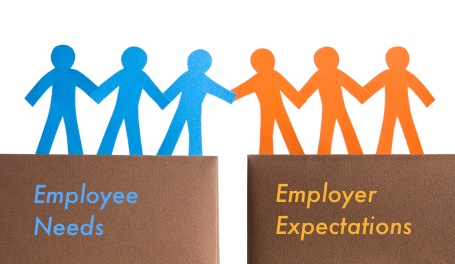 We will form a learning and evaluation team that focuses on new methods and impact lessons from our art-making work with residents. Our staff and board do not live in the immediate community, nor do they have lived experiences of poverty. We will focus our next rounds of staff and board recruitment on candidates who live and work in the neighborhood and have a personal connection to the history of the community. Further, we will institute quarterly staff field trips to local restaurants, artistic events, and other places of interest in the community.
As whole fields and their respective funders explore new methods of contributing to positive social change, leaders have to exercise caution not to underestimate the real human capital requirements of these theoretically exciting shifts in strategy. An indicative example is the push over the last decade by arts organizations and their funders to play active roles in community development. For many arts organizations, this is a profound expansion of their founding purpose and, as such, demands a profound expansion of their social, intellectual, and cultural capital.
Consider the evaluative conclusions of ArtPlace America, a decade-long, highly resourced initiative to fuel the collaboration of the arts sector with other sectors, such as housing and health: And for that change to take root on the local level, there must be local ownership of both the resources and the responsibility.
To achieve that future, we are not continuing the National Creative Placemaking Fund and instead we will transfer funding in up to six geographies to strengthen the local ecosystems of creative placemaking. It takes years and great intellectual commitment for arts organizations to build relationships with residents and businesses and city officials.
It takes years to expand the competencies of staff and board beyond a traditional arts model to include human service program design, community development, attention to issues of gentrification, and government advocacy.
Exchange relationship; Social exchange relationship; Principles Exchange relationship; Social exchange relationship; Principles Full Text: The Norm of Reciprocity: Journal of Management, 29 1 Alternative Approaches to the Employee-Organization Relationship: Does Investment in Employees Pay Off?
Academy of Management Journal, 40 5 Journal of Retailing, 72 1 Exchange and Power In Social Life. Taking Stock of Networks and Organizations: Academy of Management Journal, 47 6 Employment with a Human Face: Balancing Efficiency, Equity, and Voice.
The Psychological Contract and Individual Differences: Journal of Vocational Behavior, 64 1 Injustice and Organizational Conflict: International Journal of Conflict Management, 2 1 Leader-Member Exchange Model of Leadership: A Critique and Further Development.
Academy of Management Review, 11 3 Duanxu W, Anne S. Ti, Yichi Z, and Li a. Employment Relationships and Firm Perfoemance: Evidence from an Emerging Economy.
There was a problem providing the content you requested
Journal of Organizatioinal Behavior. Bringing Emotions into Social Exchange Theory.